USS Kamehameha
(SSN-642) Official Web Site
Deployment
The ship returned at the end of 1999 from its first-ever six month deployment. The ship and her embarked Special Operations Forces from Seal Delivery Team ONE went from Pearl Harbor to Aqaba, Jordan and back, steaming about 36,000 miles and visiting many ports around the world.
---
Our route took us from Pearl Harbor, Hawaii all the way to the northeastern tip of Africa.
---
Here is a photo of the ship's bell taken in Aqaba, Jordan. In the background is a Meritorious Unit Commendation pennant flown on the small staff attached to the ship's sail where the bell is mounted. The topside watch rings the bell to announce senior personnel arriving and departing, or during fog at anchor.

The bell says "SSBN 642" because it's the original ship's bell, made before USS Kamehameha's conversion to an SSN carrying Dry Deck Shelters (DDS) for her primary mission.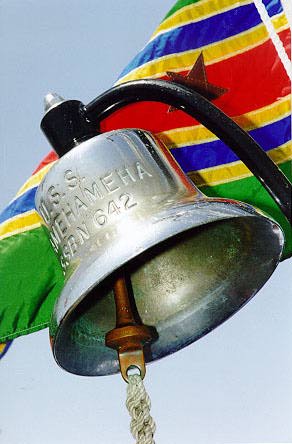 Photo by JO2 Joseph Rehana
---
In Sasebo, Japan, we moored the ship after evading a typhoon. That night, the "red skies at night" thankfully foretold that the next day's weather would be beautiful. The colors detail (shown here properly folding the ship's ensign, or flag, at the end of the day) was able to experience a beautiful sunset.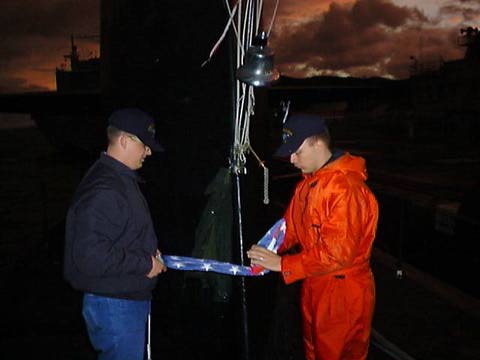 Photo by LT Godbey
---
This is what the seas looked like after departing Chinhae, Korea on our way to Singapore.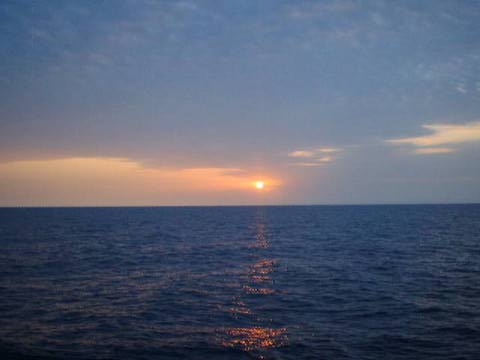 Photo by LT Godbey

Back to the USS Kamehameha Home Page