USS Kamehameha
(SSN-642) Official Web Site
Lahaina Port Visit
Occasionally, ships can take time to visit ports nearer to their home. In 1999, Kam visited Lahaina, Maui for a family member cruise, and anchored in the harbor for the weekend.
---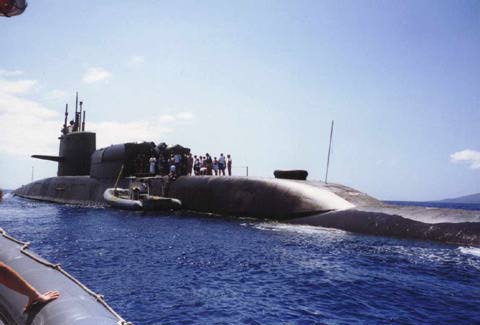 © 1999 Andrea Godbey
A tail shot of Kam anchored off Lahaina, Maui in March 1999. You can see the "small boat" (a boat we chartered to ferry people to and from shore) picking up crew and visitors on the port side, aft of the shelters. The picture was taken from the small boat seen at the bottom right corner.
---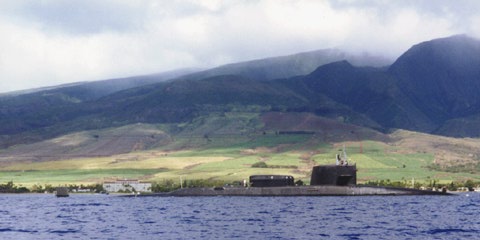 © 1999 Andrea Godbey

Another picture taken while anchored off Lahaina, showing the shoreline south of the town. The ship pulled in for the annual Whalefest celebrating the whale migration to the area, and many whales could be seen from the ship that day.

Back to the USS Kamehameha Home Page