USS Kamehameha
(SSN-642) Official Web Site
Kamehameha Awarded Meritorious Unit Commendation

In June 2000, the ship received word of her fourth award of a Meritorious Unit Commendation for her successes during a recent deployment. The MUC is the first unit award, besides the Battle "E" award, that the ship received since her conversion to an SSN. The submariners, divers and SEALs who completed the deployment together are eligible to wear the ribbon, and the ship flies a star (for second award) on a small flag at the rear of the ship's sail.
The text of the commendation is quoted below:
---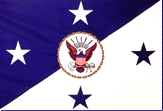 Chief of Naval Operations
The Secretary of the Navy takes pleasure in presenting
the Meritorious Unit Commendation to
USS KAMEHAMEHA (SSN-642)
for service as set forth in the following
CITATION:
For meritorious service from 1 June to 30 November 1999. The crew of USS KAMEHAMEHA (SSN-642) displayed sustained superior performance during KAMEHAMEHA's first ever six month deployment to the Western Pacific, Indian Ocean, and Persian Gulf. While deployed, the crew of KAMEHAMEHA displayed expertise in the area of Naval Special Warfare, completing special missions throughout Asia and the Persian Gulf. KAMEHAMEHA's flawless performance during the first ever operational evaluation of SEAL and diver performance during Dry Deck Shelter operations in the extreme warm waters of the Persian Gulf provided special operations forces with invaluable insight and lessons learned in a new and challenging warfighting environment, while clearly demonstrating the ability to conduct special operations in these extreme temperature conditions. KAMEHAMEHA's operational support of the KITTY HAWK battle group, participation in several high level exercises, as well as the recertification of the ship for independent Dry Deck Shelter operations was completed in superb fashion. In addition, the crew of KAMEHAMEHA conducted the first ever port visit of a nuclear powered submarine to Aqaba, Jordan, where they completed several high level onboard visits to include the King of Jordan, as well as the unprecedented completion of six community relations projects. By their unrelenting determination, perserverance, and steadfast devotion to duty, the officers and enlisted personnel of USS KAMEHAMEHA (SSN 642) reflected great credit upon themselves and upheld the highest traditions of the United States Naval Service.
For the Secretary,
J. L. Johnson
Admiral, United States Navy
Chief of Naval Operations
---
Histories on board ship show that USS Kamehameha is eligible for 63 awards of the SSBN Deterrent Patrol Pin, four Meritorious Unit Commendations (two since SSN conversion), three Battle Efficiency Awards, the Armed Forces Expeditionary Medal, and at least three Sea Service Deployment Ribbons. More awards may have been given, but these are the only ones with proof shown aboard ship. In addition, USS Kamehameha proudly displays one Communications "C", three Deck Seamanship "D", one Tactical "T", and one Medical "M" awards. The ship has also received several Ney Awards for supply excellence.



Sailors who were on the Kam for all of this cited deployment were eligible afterward for a Sea Service Ribbon (for more than 90 days deployed from home port), an Armed Forces Expeditionary Medal (for operations in the Persian Gulf and Red Sea), and the MUC listed above. Many junior sailors also "qualified in submarines" and earned their coveted dolphins while on deployment.

Back to the USS Kamehameha Home Page